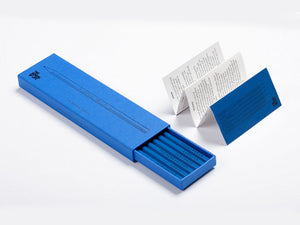 Philosophical Pencil Set
Write with and chew on these key words.
All subjects have their specialized vocabularies; a set of words that initially sound unusual, even a touch frightening, but that can also prove oddly beautiful and beguiling.
To their enemies, key words are mere jargon, but jargon has its advantages: it allows us swiftly to get a firm hold of ideas that might otherwise have been confusing and cumbersome. They also provide touching evidence of the existence of a group of people who have come together to agree on the meaning of some dauntingly fiddly things.
Our Key Word Pencil Sets use a selection of the most important words from academic disciplines and set them on some finely crafted pencils, so that we hold them more clearly in our minds while we write. These six pencils are both elegant and educational, unravelling the meaning of philosophical terms so they can help us in everyday life. Here are words that should encourage small moments of wonder and thought to punctuate your working relationship with six well-made pencils.
Key words from Philosophy:
Eudaimonia
Akrasia
Platonic
Phenomenology
Logic
Dialectic
Six pencils | definition booklet | buckram finish box
Other sets in the series: Literary, the Visual Arts and Psychoanalysis.